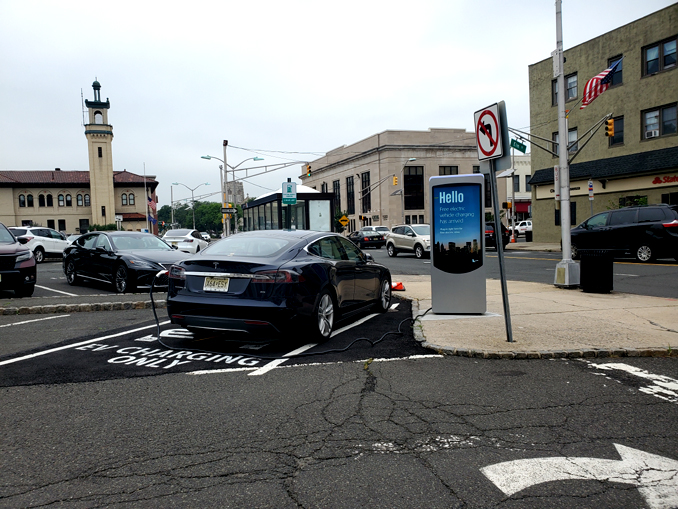 Westfield Leaders Recognized For Environmental Efforts
WESTFIELD — Mayor Shelley Brindle and the town council came one step closer towards reaching their ultimate goal of responsible environmental stewardship in November by being granted a designation of honor by a statewide initiative at this year's League of Municipalities Convention, held last month in Atlantic City.
"We are very proud to announce that we were presented with a Silver Level Award from Sustainable Jersey for the second year in a row," said Mayor Brindle, speaking at the governing body's November 23 regular meeting. "I think it really speaks to the efforts that we have been making as a community, and we're very grateful to everyone who has contributed their time and energy to make this happen."
"Sustainable Jersey is a free, voluntary program that provides tools, training, expertise and financial incentives to communities that support sustainability initiatives," Westfield Green Team member David Siegler explained during the November 23 council meeting.
Sustainable Jersey was founded in 2009 as a like-minded partnership between The College of New Jersey, the New Jersey League of Municipalities, the New Jersey Department of Environmental Protection and the New Jersey Board of Public Utilities. The program, which became an officially designated 501(c)(3) non-profit in 2011, strives to, as per its mission statement, "empower New Jersey communities to build a better world for future generations with the tools, training and financial incentives necessary to pursue critical sustainability initiatives."
Municipalities that elect to participate in Sustainable Jersey are tasked with finding new and creative ways to implement a series of best practices across a broad spectrum of environmental, economic and social categories. Some suggested areas of focus include arts and creative culture, community partnership and outreach, energy, food, green design, health and wellness, land use and transportation, local economies, sustainability and climate planning.
Each initiative is awarded a certain number of points under the Sustainable Jersey metric. Westfield, for example, earned 10 points for creating the Westfield Public Arts Commission, 20 points for hosting free community workshops on topics including rain gardens and composting, and another 10 for purchasing a hybrid police vehicle in 2020.
The town picked up another 20 points for establishing the Green Team, a local volunteer organization that works closely with the Department of Public Works, the town engineer and the town administrator to meet sustainability goals within the community.
All told, Mr. Siegler said, Westfield managed to amass a total of 375 points and a Silver Award (Sustainable Jersey's highest tier) by combining existing community initiatives with new projects.
This year's most notable contributions, Mr. Siegler said, included the installation of electric-vehicle charging stations in municipal parking lots, a town-wide energy assessment by Ceil Power that allows residents to audit their home energy usage, and an Adopt-A-Drain program that asks local volunteers to clear leaves and debris from storm drains to help prevent pollutants from getting into the Rahway River Watershed.
"We look forward to scaling up our efforts in 2022 to meet the tough challenges ahead to make Westfield stronger and more resilient," said Mr. Siegler.
While the town's sustainability efforts may be notable, some residents, specifically those with lingering concerns surrounding the Edison Field Project, say the community and its leaders still have quite a bit of work to do.
"I've talked to a lot of kids who have all complained about the soggy mess that is Edison Field after it rains, but they also told me that they do not want their parents to pay more money in taxes for something they did not ask for," said Ashley Hu, a senior at Westfield High School who spoke during the public-comment portion of the November 23 council meeting.
"I agree that something has to be done about Edison Field, but spending $9 million on a field that will destroy the environment and potentially harm our students in the long run does not seem like the right solution to me," Ashley continued.
Mayor Brindle acknowledged that it has always been a challenge to balance environmental sustainability against other mitigating areas of community need.
"The fact that we actually achieved another silver certification from Sustainable Jersey is an acknowledgement of this administration's commitment to the environment," Mayor Brindle said at the meeting in response to the question of how best to consider turf fields as part of an environmentally-friendly community. "I don't believe that everything has to be all or nothing. The fact that we are posing the turf field as a solution to a 20-year problem does not erase our records as environmentalists."
The Edison Field Project is still in the planning stages, Mayor Brindle said, and will likely remain a point of contention for some time to come.
"Would we love to have well-maintained, perfectly-manicured grass fields all over town? Of course. But that's not the nature of the dense town that we live in," she said. "We're trying to solve this really difficult problem in a way that works for both the community and the schools. I think we need to work together to figure this out. We want the neighbors and the Green Team to be a part of this. I hope we will arrive at a conclusion, but everybody is going to have to give a little. I don't know what that solution looks like yet, but we're going to get there. The passion is evident, but we do still need to look at this objectively."