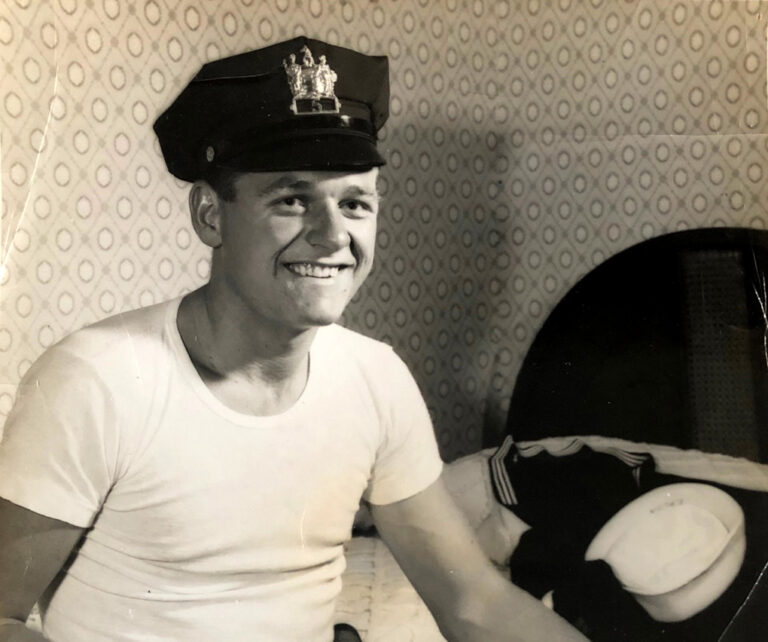 Lifelong Fanwoodian, Dad, Cop, Veteran, Earl Phillips Turns 100
FANWOOD — Some people contribute to their hometowns more than others. Earl P. Phillips, a lifelong Fanwood resident, World War II veteran and dedicated retired police officer, is one such individual. Mr. Phillips turned 100 on October 22, with his family, including his wife, Margaret, or "Peggy," of almost 73 years, and officers of the Fanwood Police Department joining him to celebrate the landmark occasion.
With Earl becoming a centenarian, his son, Roger Phillips, who himself grew up in Fanwood, spoke to Union County HAWK on behalf of his father. Roger now lives in Pennsylvania and works as a developmental psychologist. He touched upon his father's service to his beloved borough, his involvement in World War II and his character. Given his advanced age, Earl is unable to stay as connected to the community he has called home all his life.
"One of the things that was such a strong message over the years," noted Roger, "and not particularly being told as much as by example, he was just a simple, hardworking guy. He took responsibility seriously and did the work until it was finished, to the best of his ability."
But before Earl married Peggy and raised a family in Fanwood, he served in the Navy during World War II.
In the Navy, Earl served in the European and Pacific theaters of the war. The majority of his service in the Navy involved troop transport, "mostly in Europe, but it also included one trip moving troops across the Pacific (through Panama) to Australia," noted Roger, who recently spoke to his father about his service. Earl estimated they moved 1,500 to 2,000 troops at a time.
Earl also recalled moving troops through the Mediterranean Sea, including one trip in particular "where they transported Arab men to a training base in Morocco; he remembered these Arab men being issued military uniforms while on the ship and giving up their traditional robes and dress," said Roger.
Earl was stationed offshore on a navy ship in the British Channel during America's invasion of Normandy, the pivotal thrust into Europe that in conjunction with the Soviet Union's invasion of Germany from the East proved to be the decisive campaign in the war. Not far from Utah Beach, an invasion point for the American landing force, Earl and his crew would end up towing a damaged craft back to New York Harbor. The trip, according to Earl, took nearly a month to complete. They immediately returned back across the Atlantic to England.
Earl enlisted in the Navy in July 1942, having graduated from high school the previous month, noted his son. He was discharged in December 1945, as a Quartermaster, Second Class.
Not long after the war, Earl would join the Fanwood Police Department, where he served for 35 years. Earl and Peggy were married in 1949, had four children and a life in Fanwood defined by service to one's community. This fact was made evident by the Fanwood Police Department's trip to visit Earl this past month, where pictures from his days as an officer were shared.
Earl would stay active and involved in Fanwood well beyond the point most people retire, his son noted. He continued cutting his own grass into his 90s and was answering calls for the Fanwood Rescue Squad into his 80s.
Earl and Peggy raised their children — Valerie, Ginger, Roger and Lorie — in their Poplar Place home.
Outside of service as a patrolman and eventually desk sergeant with the Fanwood Police Department, Earl worked with his brother, who owned a landscaping company, to make sure his family was taken care of, said Roger.
Aside from being a police officer, Earl was a critical force in founding the borough's rescue squad. And, according to his son, Earl had connections to the Fire Department and played a major role on Fanwood's Shade Tree Commission.
In 2015, Earl was honored by being named grand marshal of the Scotch Plains-Fanwood Memorial Day Parade.
But in the end, Earl is a father, and one whose example made a profound impact on Roger, who still maintains a strong connection with his dad.