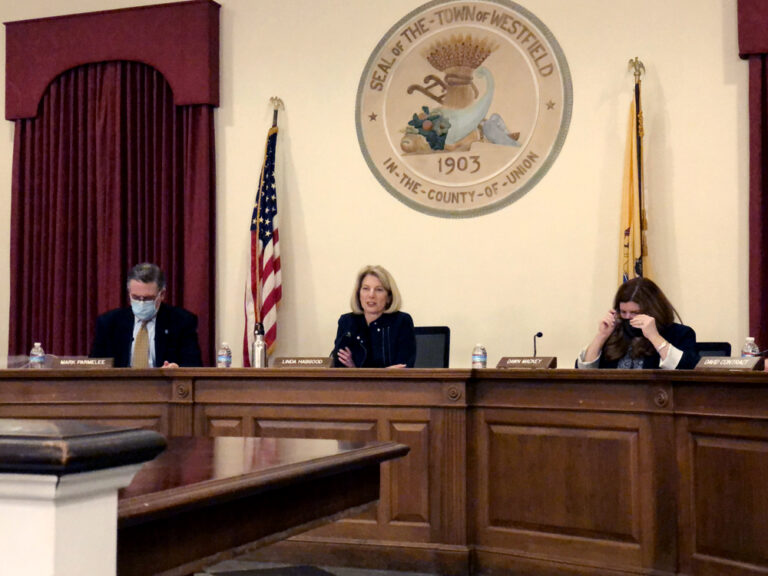 Council Reaffirms Commitment to Public Safety Following Crimes
WESTFIELD — Acting Mayor and Councilwoman Linda Habgood reaffirmed the administration's commitment to public safety during Tuesday's town council meeting. Mayor Shelley Brindle was absent from the night's proceedings. Councilwoman Habgood's comments came in the wake of serious crimes that have rocked the Westfield community.
These crimes include the home invasion and sexual assault that took place last month on Longfellow Avenue, in which a suspect has been charged, along with a carjacking that occurred on the morning of November 3 in the parking lot of Summit Medical Group on Springfield Avenue. Westfield Police Chief Christopher Battiloro announced on November 5 that his department had arrested "three persons on numerous charges related to a carjacking." (See press release on Page 3).
"While the data shows that most types of crime are down in 2021 in Westfield, that does not dismiss the reality that recent, more violent acts reflect criminals who are emboldened, and are very disturbing and frightening for our residents," said Acting Mayor Habgood. "We share these concerns, and are working closely and regularly with the police department on additional mitigation efforts."
Ms. Habgood also announced that Mayor Brindle, Chief Battiloro, Town Administrator Jim Gildea and Councilman Michael Dardia, chair of the Public Safety, Transportation, and Parking Committee, all met to discuss "regional crime trends and public policy, as well as an evaluation of our current police resources and Nixle alert policies."
The acting mayor emphasized that the administration's reminders to residents to secure their property, such as locking their cars and not leaving the digital key fob in one's vehicle, "is clearly not and never has been our exclusive area of focus."
Ms. Habgood said the administration is working on a "three-pronged approach" that will be "centered on emphasizing policy reform at the state level, securing additional resources needed by the police department, and implementing a more streamlined communication strategy." The acting mayor said all those factors "need to work in tandem to meet our shared goal of reducing crime and improving public safety for the community."
She said more information would be coming in the next weeks and months.
On the legislative front, the governing body introduced on first reading an ordinance selling town property at 2011 Boynton Avenue, Block 5707, Lot 17, a parcel described as "undeveloped real property," according to the ordinance. If passed on second and final reading, the town would sell the property to Keith Disko and Joanna Glinska, a married couple, for $90,000. The couple inhabit the contiguous property. The property consists of approximately 5,877.75 square feet, or 0.135 acres, reads the ordinance.
Council members Mark Parmelee, David Contract, Mark LoGrippo, Scott Katz, Dawn Mackey and Mr. Dardia joined Acting Mayor Habgood in voting yes to the ordinance's introduction. Councilman James Boyes was absent Tuesday night.
In other business, the public comment portion of the meeting was dominated by two issues — the pending litigation involving the town and the Westfield Senior Citizen Housing Corporation, and the proposed fields project at Edison Intermediate School.
Currently, the town and WSCHC are in litigation stemming from WSCHC's desire to build 31 additional units and its request for a new land lease, which led to a dispute about funds owed to the town, as previously reported in The Westfield Leader. WSCHC operates two separate buildings and corporations at 1133 and 1129 Boynton Avenue. The non-profit corporations are overseen by two boards of trustees, both of which have the same members.
Anthony Psomas of Birch Place, a longtime resident whose mother currently lives in one of the residences operated by the WSCHC, addressed the governing body and public during Tuesday evening's meeting.
"I want to address the town's actions regarding the dispute with Westfield Senior Housing," said Mr. Psomas. "Westfield Senior Housing epitomizes what public housing should be. It's an excellent managed and maintained facility, providing safe, clean, affordable housing that supports services to its residents. It would be a moral disgrace for anyone to do anything to interfere with that."
Speaking in support of the town was Gregory Kasko of Everson Place.
"I know that the town has their hands tied. I know that there's litigation involved and you can't answer questions," remarked Mr. Kasko. "If someone has been renting land in Westfield, and not paying the rent owed, we need to look into that," he said. "It's the corporation that the government is dealing with, not the individual seniors."
The Edison Fields Project, a proposed project revised in September after multiple public-input meetings, continues to draw both ire and also support from Westfield's residents. While detractors have been most vocal and visible, supporters of the project also have been present at the municipality's public meetings, highlighting Westfield's need for increased field capacity.
Originally estimated at $18.2 million after the fields project was unveiled in June, the new Edison Multipurpose Fields site is priced at $9 million and covers "approximately 60 percent of the surface area (~250k square feet)," according to the recreation commission's presentation in September. In addition to a reduction of square footage, the field plan now features one unlit, natural-grass baseball field; two artificially-turfed, lit, multi-purpose fields, and a second, turfed baseball field.
Those in opposition and present at many town meetings are neighbors and residents in the area surrounding Edison Intermediate School. Issues brought to the attention of town officials and lawmakers include public safety concerns due to increased traffic; environmental issues caused by runoff and the composition of synthetic turf; light pollution and other factors impacting residents' quality of life. The vast majority of those in opposition to the plan, as it now stands, do acknowledge the town's fields shortage and advocate looking into grass fields that are environmentally-friendly and are engineered to withstand the heavy sports traffic generated by Westfield's many sports and recreation activities.
But those in support of the fields project and its scope of improvements, such as Erik Elfstrum of Mohawk Trail, president of the Westfield Lacrosse Club, think turf fields are necessary to withstand heavy usage from the town's many athletic programs.
"There's a couple of things about the Edison project that need to be said," remarked Mr. Elfstrum. "I would love grass fields, but the capacity does not allow us to do this." Referencing the field at Tamaques Elementary School, he said, "it is a disaster; it does not represent Westfield well when you're playing other towns in a high-school game on that pathetic field."
Mr. Elfstrum said if there was "time off" between sporting events, then he would be in support of grass fields. However, "there's no way, given the capacity issues that we have here in this town."
Preceding Mr. Elfstrum's comments, Chris Zanelli, a Ward 1 resident, made the argument that the revised Edison fields project "has considerable blind spots in both its cost and competitive evaluation of other financially-responsible grass construction alternatives," according to his presentation.
Moreover, his presentation emphasized the benefits of sand-based "natural turf construction." He also pushed back at what he characterized as "fictions" regarding grass fields, arguing that with the right engineering, construction and maintenance, grass fields can sustain high usage.
"Thank you all who came to talk about the fields tonight," said Acting Mayor Habgood, in response to public comment. "Because it is a difficult decision," she noted.