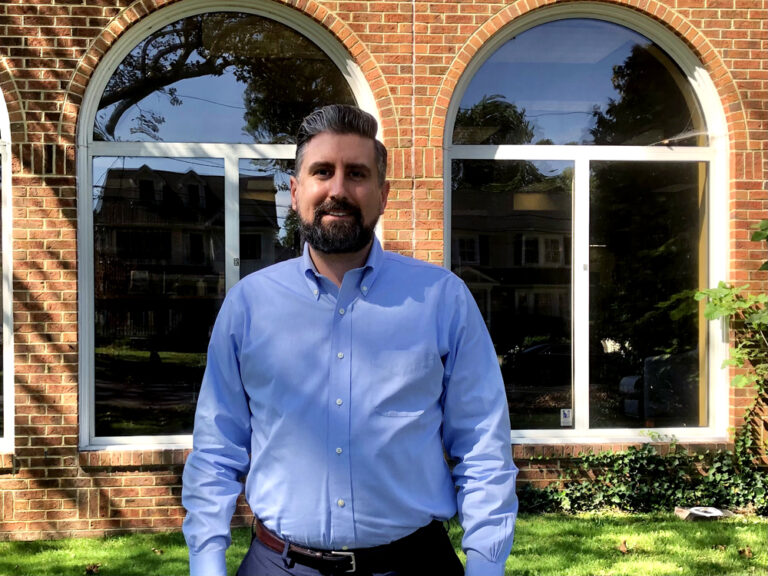 New Westfield Library Director Seeks to Engage With Community
WESTFIELD — The Westfield Memorial Library has a new director.
The library's board of trustees announced via a press release on September 20 the appointment of Allen McGinley to his new position, where he replaces former library director Phil Israel.
Mr. McGinley sat down with The Westfield Leader on Monday to discuss his new job and his path to becoming the new face of the public library.
Inside his office at the Westfield Memorial Library, Mr. McGinley, 41, expressed eager excitement for his new job.
"We just love this community," said Mr. McGinley. "Westfield is a very educated, engaged community. It's a community that's very focused on family. For me, that's the ideal place to do library services."
Mr. McGinley relocated to nearby Fanwood with his wife, Barbara, and son, Samuel, in August of 2020. Just last weekend, Barbara McGinley paid a visit to his new office, where she helped decorate Mr. McGinley's new digs. Barely into his new leadership position at the library, Mr. McGinley emphasized his initial first steps as library director will revolve around engaging with the community and listening.
"One thing I'm passionate about is having a community orientation. A lot of times in libraries and just everywhere, people sit around a table like this and decide what the organization is going to do," said Mr. McGinley. "I think the community really needs to be a part of that conversation."
The new director, who already has joined the Rotary Club in town, admitted that things are, "a little more challenging during the pandemic. But I'm focused on meeting people and learning about what their challenges are, what their passions are. I'd say early on, one of the things that's evident to me is that a focus on service is very important in this community.
"I think you'll continue to see the library play a role in coordinating service opportunities," noted Mr. McGinley.
Service opportunities, according to Mr. McGinley, includes helping to coordinate volunteer programs, especially for young people.
During his tenure in Teaneck, Mr. McGinley was faced with leading a library through the early stages of the pandemic. Drawing upon programming he created just prior to the outbreak of Covid-19, with a focus on STEM activities and 3D printing, Mr. McGinley used the program's resources and the 3D printer to create much-needed personal protective equipment (PPE) for front-line health-care workers.
"Teaneck was very much an early epicenter for the pandemic," explained Mr. McGinley. "One of the things we noticed is the front-line medical workers were getting sores on their ears from the straps," he said. "We found a design for a strap that would go behind your head, and the mask straps would connect to it. And so, we started 3D printing those straps, and ended up donating a bunch to Holy Name Medical Center in Teaneck and The Valley Hospital in Ridgewood."
For Mr. McGinley, seeing the library as an asset critical to community service is a lesson that can be traced back to his earliest years working inside the walls of a library. Prior to earning a bachelor's degree in English from SUNY Geneseo, Mr. McGinley was not sure what he wanted to do. While working in retail at Brooks Brothers, which he credits with teaching him customer-service skills relevant to his responsibilities today, Mr. McGinley soon began volunteering at his hometown library in Geneva in upstate New York.
During this time, Mr. McGinley found the work fulfilling, and found the inspiration to pursue a career in library services that would see him go on to earn a graduate degree in Information Sciences at the University at Albany.
Eventually, Mr. McGinley's journey would bring him to the New York Public Library system, before continuing on a career path that saw him spend 10 years at the Piscataway Public Library and then onto Teaneck and Westfield.
Speaking of his time at the Countee Cullen Library, a branch of the New York Public Library system in Harlem, Mr. McGinley called the experience "extremely formative."