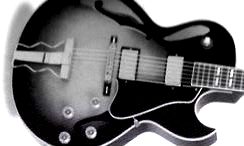 Virtual Guitar Lessons
One-on-one 60-minute guitar instruction: $45.00.
PJ Cotroneo
Guitarist, guitar instructor and college instructor of History of Jazz & Music Appreciation.
We'll cover the music and songs you want to play, as well as music theory and guitar sight reading.
Private, virtual lessons are conducted via Skype, Facetime, Zoom, etc. Lessons via other platforms are also available upon request.
Hear PJ at Soundcloud and also on Instagram, Search: PJ Cotroneo Band.
For information, please contact: (908) 380-8438.
About PJ:
BFA in Jazz/Contemporary Music from The New School University, New York City.
MFA in Jazz History/Jazz Research from Rutgers University, Newark, New Jersey.