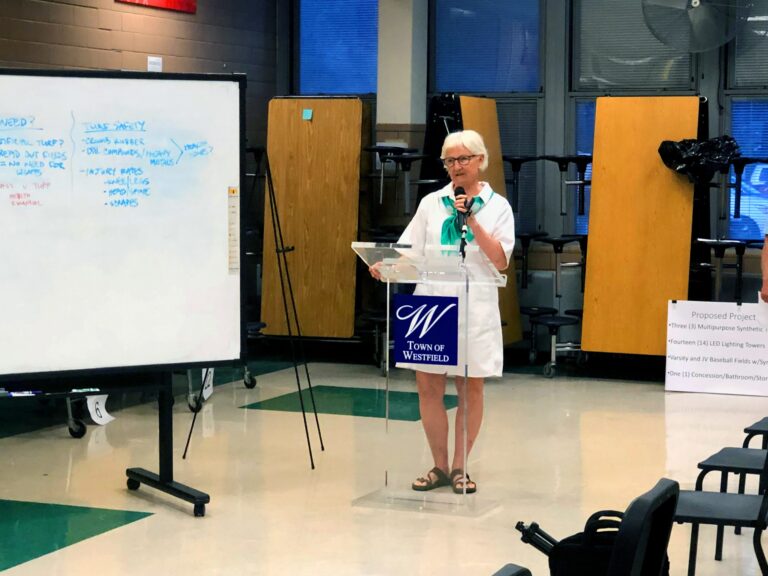 Concerns Continue During Second Edison Field Project Meeting
WESTFIELD — More than one hundred residents and town officials gathered for the second Edison Fields Proposal meeting on July 21, which was held inside the cafeteria of Edison Intermediate School. This second input meeting, hosted by town officials and open to residents town-wide, was part of the municipality's effort to gauge residents' concerns, feedback and suggestions.
Town officials, including Mayor Shelley Brindle, continued to emphasize that the project is in the early "conceptual" phases and that resident feedback will go a long way in shaping the final outcome of the project.
Many residents who spoke during the July 21 meeting, and also the first input meeting held a week prior, expressed concern regarding the size and scope of a project that would overhaul the Edison School Field and create multi-purpose fields over the existing two baseball diamonds. The project would include LED lighting and turf fielding. The proposed expansion of the facility to a multi-use field complex would add sport fields that would accommodate lacrosse, field hockey and soccer. The size of the lit-turf fields would be approximately 400,000 square feet at a cost estimated to be around $18.2 million.
Currently, Edison Field hosts varsity and junior varsity baseball, football and band practices — along with track and field activities — in addition to physical education classes.
Also on hand at the meeting were representatives, including a landscape architect from the firm Spiezle Architectural Group. Town officials continued to state that these early-input meetings are meant to gather feedback. Future meetings, one being held on Wednesday, September 1, will see town officials and professionals from the Spiezle Group address concerns and questions from residents directly, in addition to responding to the issues expressed by residents during the prior July meetings.
Although open to all town residents, last week's meeting was heavily attended by individuals who came to the neighbors' meeting the previous week. With the exception of two people who spoke in favor of the project, the vast majority of residents who came to the meeting expressed serious concern regarding a project that many who strongly oppose it have dubbed "Mini-Met Life Stadium."
One individual "strongly in favor" was a resident of Washington Street, a father of three sons whose children attended Edison School.
"I don't see a lighting issue," noted the resident, who also said he thinks the proposal would be a boon given the neighborhood's proximity to the schools and the field.
"What's good for the youth is good for Westfield," he said.
The major takeaway from the night's proceedings, however, continued to be one of concern over and disapproval of the planned multi-field project.
Issues raised by neighbors of Edison School ranged from environmental and flooding concerns, to safety fears due to increased traffic and parking overflow, and to the actual necessity of having turf compared to more conventional grass fields.
New field construction, specifically its location in town, was reflected in the comments of many speakers, including Allison Emery, a self-proclaimed proud "soccer mom."
Ms. Emery shared how her family travels to neighboring towns during the fall and spring to attend soccer games and finds it "embarrassing" that "bucolic Westfield" is unable to maintain its already-existing soccer fields.
She went on to ask why the town should have all the new fields concentrated in one area, as opposed to having fields throughout Westfield made state-of-the-art.
"I, too, want change. I just want to ask all of you this: Please tell me, why do you think every new soccer field that exists in Westfield should literally be in this neighborhood's backyard?" remarked Ms. Emery. "We all adamantly agree we need new soccer fields in Westfield; we just feel that every soccer field in Westfield should be state-of-the-art, rather than one sports complex with a bunch of sub-standard fields in other locations," she continued.
A dominant theme during the night's proceedings continued to be safety aspects. In addition to concerns over potential traffic generated by the fields complex, there also were questions surrounding the science of turf fields, especially the way in which turf retains heat compared to grass fields. Multiple speakers, including Marisa Carnevale of Doris Parkway, an English-as-a-Second-Language (ESL) teacher at another school district in New Jersey, went beyond the impact it might have on student-athletes playing lacrosse or soccer, to student recess at Edison.
"We [the Carnevale family] are sports people, but I'm also a mom and a teacher," said Ms. Carnevale. "I want to know, the kids that go to Edison, what are their parents going to think when they are told, 'guess what, we don't go outside for recess anymore,'" she remarked.
Ms. Carnevale's comments followed those of Norm Yang of Normandy Drive and another fellow teacher and neighbor who works in the Elizabeth School District, who expressed concerns over the safety of turf, specifically how turf tends to heat up more than conventional grass athletic fields.