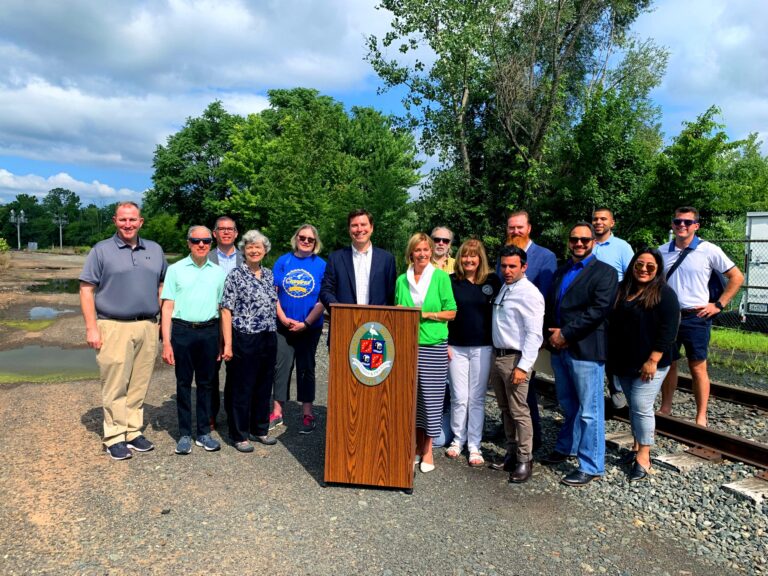 Rails-to-Trails Initiative Gets $100,000 Grant
CRANFORD — A three-and-a-half-mile track of the unused Central Railroad of New Jersey (CNJ) that connects Cranford to Elizabeth is one step closer to becoming a pedestrian and bike path.
In a press release earlier this month, the Union County Commissioners announced that Union County had been "awarded a $100,000 grant to support a new Rails-to-Trails Feasibility study by the New Jersey Department of Transportation (NJDOT)."
Roselle Park Councilman Jay Robaina and Roselle Park residents Michael Dury and Jackie Garcia started Rails-to-Trails Union County in August of 2020. The group was integral in bringing this proposal to the county, lawmakers said at a small celebration held Monday morning near the proposed site.
Union County Commissioner Chris Hudak said the feasibility study is a "significant first step," while adding that no company has been chosen to run the study as of yet. Commissioner Hudak said that any cost estimate is premature at this time, as the scope of the project is still unknown.
Roselle Park Mayor Joseph Signorello said these types of conversions "are really complicated projects," and added that similar ventures around the state have taken years to accomplish. The unused rail lines currently are owned by Conrail, said Mayor Signorello. There also have been some encroachment issues with local businesses using the abandoned railways for storage, as well as federal laws and regulations regarding service lanes near railroads.
Another possible complication, said Mayor Signorello, could be community support. He said he has already heard pushback from some community members, but believes there are other community members who are looking for more outdoor space.
He called the project a "positive" for the community, as it would be a safe way to connect local municipalities, good for the environment and helpful for property values. There is more value in living near a "walking park, rather than abandoned rail lines," said Mayor Signorello, who pointed to New York City's High Line as an example.
The invention of the railroad "connected us in new ways and unlocked the imagination on what was possible," said Cranford Deputy Mayor Brian Andrews.
"The exciting thing about this project," said Cranford Mayor Kathleen Miller Prunty, "is that it will tie together communities throughout Union County."
Kenilworth Mayor Linda Karlovitch has been a supporter of the project since the beginning. She said that she and Mr. Robaina walked the length of an abandoned rail line in Kenilworth that runs along the East Coast Greenway and the golf course. Converting it will be "beautiful," she added.
"The pandemic laid bare the need for a better alternative to bike opportunities in Union County," Mr. Hudak said. He also mentioned that some nearby counties have "more extensive bike paths."
Similar rails-to-trails conversions have happened throughout New Jersey and across the country, according to the Rails-to-Trails Conservancy's website. There is the Saddle River County Park Bike Path in Bergen County, Traction Line Recreation Trail in Morris County, and the Henry Hudson Trail in Monmouth County.
Interested community members can join Rails-to-Trails Union County on Facebook for more information. "This was just an idea a year ago," said Michael Dury, "and look what's happened. It's amazing."