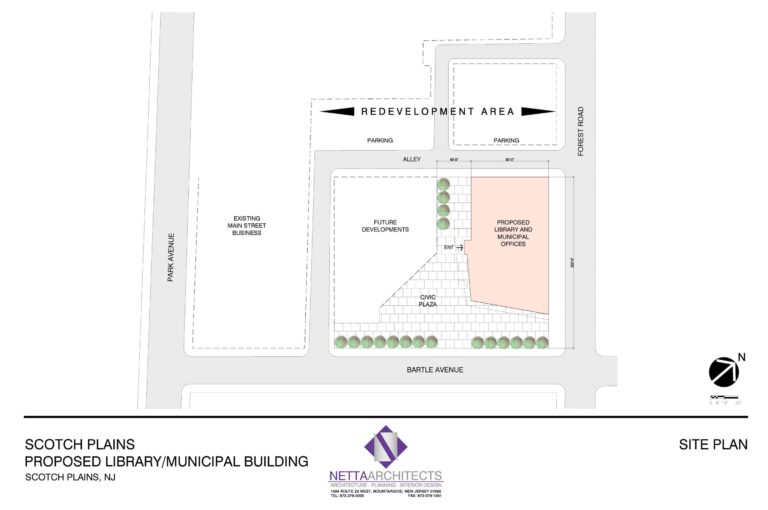 Second Library Grant Being Submitted to State
SCOTCH PLAINS — A second application is being submitted to the state for grant funding to help finance construction of a new library on Bartle Avenue.
If received, the $3.5-million request would finance more than a quarter of a new $13-million facility to replace the present library that was built in 1968. Township redevelopment coordinator Thomas Strowe told The Westfield Leader and The Scotch Plains-Fanwood Times that the new building would include two floors of about 25,000 square feet for the library, with a third floor for township government offices.
New Jersey voters in 2017 approved a $125-million library bond ordinance, the proceeds of which are available to finance library improvements or new construction of libraries. Scotch Plains' initial application to the State Library Board for half the estimated $12-million cost for a new library was not among the awardees announced last year, but there is still $37.5 million remaining in the second round. "We are competing for less available dollars," Mr. Strowe said, "which is why we are asking for $3.5 million," compared to the first-round request of $12 million.
Two weeks ago, the library's board of trustees approved conceptual plans for a new facility that would be located in the same spot as the present library. According to the plans that were provided to The Leader and The Times, the entrance would be on the new building's western side, as is the case with the existing library, and would open onto a large plaza. On the other side of that plaza, where the municipal parking lot is now located, there would be space set aside for another, unspecified building. A new parking lot would be developed at the northern portion of the site where the current lot for library staff is located and where a part of the municipal lot is situated. Access to the lots would be via Bartle Avenue and Forest Road.
Interior renderings of the proposed library, developed by Netta Architects LLC of Mountainside, show a first floor containing a large room for adults with bookshelves, tables and small study rooms on the northern side and an adult reading room and a large multi-purpose community room on the south side. The second floor includes another adult room with bookshelves, tables and small study rooms on the north side and, on the opposite side, a large children's room with bookshelves and tables as well as an area for teens and young adults. A room for computers for public use also is included on the upper floor.