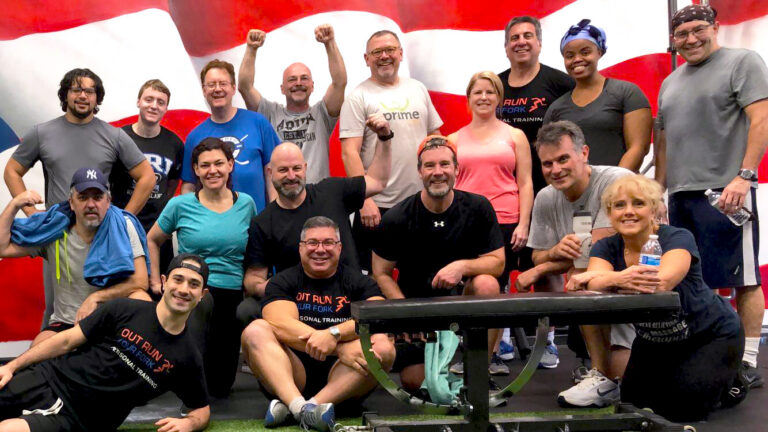 Local Gym Seeks To Improve More Than Just Health
WESTFIELD — In 2011 Tony Bianchino, founder of Out Run Your Fork Personal Training, left the corporate world to follow his dream of helping people live healthier, more vibrant lives.
Traveling from home to home all over New Jersey with nothing more than a few kettlebells and some resistance bands, he began his journey of owning the Top-Rated, Premier Fitness Location anywhere in the world.
Finally, in November 2019, Out Run Your Fork Personal Training was poised to open its first location in Westfield, N.J.
But, in March of 2020 the pandemic struck forcing a government imposed lockdown. The fledgling location would have to wait.
Bianchino and his wife, Melissa, moved swiftly to offer free services to the local community. From the first Open Quimby Street to Free Virtual Cooking Events and Free Virtual Training, to raising thousands of dollars to Feed Frontline Workers – Out Run Your Fork Personal Training aimed to bolster the community and come out of this stronger together.
But it wasn't to stay that way…
The Big Announcement
In July 2020 they finally got the green light to open the doors on Out Run Your Fork Personal Training and people began flooding in.
Bianchino created a brand new program aimed at helping busy Men and Women Lose Weight, Get Fit, Boost Energy and Increase Mobility without Sacrificing Time or Risking Injury.
Revolutionary, he called it.
After signing up over 200 people in only 10 months, Bianchino, made a stunning announcement:
"We're going to do something we've never done before," he began. "We're going to offer four lucky people the chance to win 8 weeks of Personal Training and Nutrition Counseling!"
But, why offer it for free when so many people are joining at a record braking pace?
"Simple," Bianchino vibrated with excitement, "we're doing it because people are joining at such a record pace. We're giving back to the community that has been so giving to us!"
"But there's a catch," he cautioned, "This deal won't last forever. As a matter of fact, you have to apply by Friday, May 28. After that applications will be closed forever."
He doesn't plan on offering this deal ever again.
The Tears That Sparked The Idea
One day Bianchino was reading through the mail when he noticed a letter from his client.
His letter opener slid easily across the top of the envelope, revealing the note inside. He pulled out the letter and began reading. Tears welled up in his eyes and his voice cracked as he called his wife, Melissa, to come read the letter with him.
Soon, Melissa began to weep with him as she read those almost impossible words that leapt off the page to hug both of them.
"It was that very moment when I realized the profound impact we could have in people's lives," Bianchino's eyes glassed up as he spoke.
Want to know what was written in that letter? Bianchino shares it here:
"(I weighed) over 300lbs. I was battling depression and diabetes. As the widowed father of three children I was desperate to get healthy again but dubious that I ever could. Tony's enthusiasm and logical approach to weight loss gave me some hope that maybe I could do this. As I progressed he continually adapted my program and continually challenged me but never overwhelmed me. A year and a half later is it not an understatement to say that Tony helped save my life. I am down 80 lbs and am living a much healthier lifestyle. My diabetes numbers have gone down drastically and my depression is very much under control. I can't begin to thank him enough for the hope he has given me."
Bianchino said he was speechless, but he now knew what he needed to do.
The Mission
Bianchino's mission is to help and impact people in a way that no other fitness studio ever could.
"We wanted to open up our doors to more people and give them an opportunity to work with us," Bianchino said. "And we felt that this sweepstakes program was a great way to do it."
"Everyone is encouraged to apply, but we're only going to select two people," Bianchino explains. "We want to give our two winners a unique experience and right now that's the appropriate number of people to bring in for this program."
How To Apply
If you're finally ready to Lose Weight, Get Stronger, Boost Energy and Increase Mobility without Sacrificing Time or Risking Injury, then get all the details on how to apply: