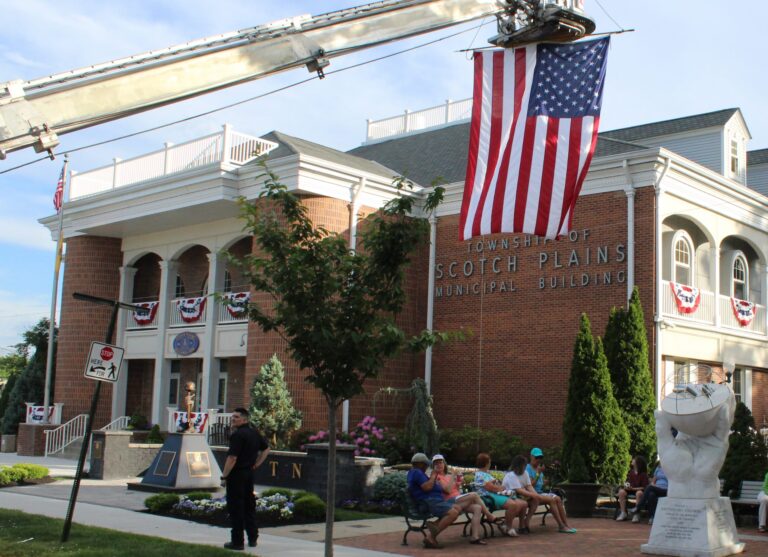 Democrats Seek to Expand Control of SP Council
SCOTCH PLAINS – Democrats will seek to expand their 3-to-2 majority on the township council in next month's election, in which the mayor's seat and a council seat are up for grabs.
Republican Mayor Alexander Smith is seeking a second term and facing a challenge from Deputy Mayor Josh Losardo, a Democrat who was elected to the governing body two years ago.
Republican Councilman Ted Spera also is seeking a new four-year term against Democratic challenger Ellen Zimmerman.
The five-member governing body currently is composed of three Democrats — Mr. Losardo and his 2018 running mates, Elizabeth Stamler and Roshan White — and two Republicans, Mayor Smith and Mr. Spera. Dating back more than a century, Democrats have never had unanimous control of the council. In 2015 and 2016, they held four of the five seats, before Mr. Smith and Mr. Spera won their elections four years ago.
The two mayoral candidates and the two council candidates will take part in a forum sponsored by The Scotch Plains-Fanwood Times on Thursday evening, October 29.
Mayor Smith is running for re-election, "because I believe the experience I've had leading the town over the past four years prepares us to successfully meet the new challenges we're going to face in the near future." He told The Times that his vision for the township "is a genuinely nonpartisan and transparent one that will continue to benefit all residents, regardless of age, income, race or political affiliation."
He feels residents "recognize the good government that Ted and I have brought to the town," citing average property-tax increases of less than 1 percent over the past four years, the township's AAA bond rating, added quality-of-life services such as extra branch pickups, working in a bipartisan manner and saving open space from development and for ball fields.
He cited several areas where he thinks he can make the "greatest impact," starting with the ongoing pandemic. "We are not yet out of the woods with Covid-19," the mayor said as he pledged to "continue to promote public health" by keeping residents updated with information from the county, state and federal governments. He also said he will "fight to ensure our businesses can take advantage of all available grants and loans and reopen as quickly as possible in a manner deemed safe."
The mayor said that revitalizing the downtown "has been the single biggest issue I hear about" from residents, who, he says, are "frustrated" that Scotch Plains is the only local town that has never had a comprehensive plan to revitalize its downtown.
He told The Times that residents will be given an opportunity to review the soon-to-be-unveiled plans for the central business district and said every step of the process will be "as transparent as it has been until now." He said he feels that, "we can follow the successful model of towns like Cranford and give residents a more exciting downtown experience without imperiling our quality of life."
The mayor also cited the social unrest that has occurred this year, pointing to local marches held to "fight systemic racism, to preserve our local Italian culture and to reopen our schools." He said his work on the Truth and Racial Healing Transformation committee "taught me that social ills like racism are never 'fixed' and that they require constant attention."
"Quality of life is non-negotiable," the mayor told The Times, saying he "will continue to find ways to improve it for our residents, as we've done by adding a second branch pickup, additional police officers and improving storm communication." The mayor also pledged continued "transparency and honesty," saying they "are not just buzzwords for me. I will be honest about the challenges we'll face together, whether it's the annual budget, the upcoming property-tax revaluation or affordable-housing lawsuits."
Mr. Spera, who is finishing his first term on the council, said that, "for the first time in decades, our bipartisan government gets along, keeping things civil even on those rare occasions when we disagree." Municipal taxes "haven't been flatter in 40 years," he told The Times, "and we've added services and grown the police force. We secured land for a new ball field, preserved wetlands and saved open space from development."
Mr. Spera said township leaders "continue to move forward on a sensible plan for downtown redevelopment that takes the needs of the entire town into account." And, he added, he was "particularly proud of our historic preservation at Shady Rest and the Frazee House."
Mr. Losardo, an attorney and small-business owner, says he is running for mayor because with the coming downtown redevelopment, "I want to ensure that we get it done right.
"This means redeveloping without raising taxes," he told The Times, "taking time — perhaps a decade or more — to get the job done and working collaboratively with the entire council so all
viewpoints are considered from the beginning, making it far more likely to ultimately have the council's full support and be successful."
He said that the main topic he and Mrs. Zimmerman hear about from residents is "taxes, taxes, taxes." Voters tell the Democratic ticket that taxes are "too high" and "we deserve better services for the taxes we pay." Many residents also are concerned about what the downtown redevelopment project will cost, Mr. Losardo said, noting that many additionally are "confused about the project as well, thinking that construction would have started by now."