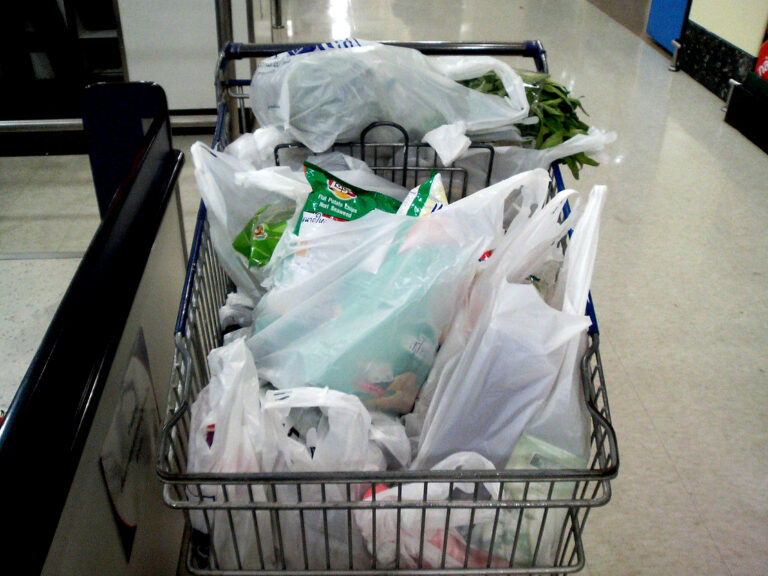 Paper and Plastic Bag Ban On the Horizon in New Jersey
TRENTON — A bill banning the use of single-use plastic carry-out and paper bags passed both houses of the New Jersey State Legislature on September 24, more than eight months after its introduction into committee. The bill also limits the use of single-use plastic straws as well as polystyrene foam products.
After 18 months, if Governor Phil Murphy signs the bill, store and food service businesses would not be allowed to give or sell customers single-use plastic bags and grocery stores would not be allowed to provide or sell paper bags. One year after being signed, the bill would enforce a policy that "a food service business would be prohibited from providing a single-use plastic straw to a customer, except upon request."
According to the document, the New Jersey Legislature found that single-use paper bags use the same or more energy as plastic bags to make and transport and thus also would be banned.
"Carryout bag" is defined in the bill as a bag provided to a customer from a store or business "for the purpose of transporting groceries, prepared foods, or retail goods." It does not include bags used to wrap uncooked meat or fish or bags used for loose items like fruits, vegetables, baked goods, greeting cards or small hardware tools. Other exceptions include bags used to hold animals (as in at a pet store), bags used to hold prepared food, laundry bags, newspaper bags or bags carrying prescription drugs.
Violating the bill would result in a fine, and the money collected from these fines would go to the Clean Communities Program Fund. The bill also would appropriate $500,000 a year for three years from the Clean Communities Program Fund to the Department of Environmental Protection (DEP). The DEP would use this money to "contract with a non-profit organization to develop and implement a Statewide public information and education program concerning the provisions of the bill. The program would include educational programs, public service announcements, and the distribution of free reusable carryout bags throughout the State."
The bill says the reasoning behind the action is that, "the Legislature therefore determines that it is no longer conscionable to permit the unfettered use and disposal of single-use plastics in the State."
The bill does not acknowledge the ongoing Covid-19 pandemic. Plastic bag bans have had a hiccup across the country as reports that reusable bags may carry coronavirus emerged. Early in the pandemic, Politico reported that it obtained a copy of a letter from the Plastics Industry Association sent to the U.S. Department of Health and Human Services saying, "single-use plastic bags are the safest choice amid the pandemic."
It is not clear whether reusable bags pose much more of a threat in spreading the coronavirus. There is research showing that both bags can carry viruses; however, there is yet to be a determined answer to which bag may be more dangerous.
Grocery store chains in New Jersey had initially banned reusable bags entirely at the height of the pandemic. Some have rolled back the policy if shoppers bag their own groceries, but according to the ShopRite website, reusable bags are still prohibited for use for all delivery and pick-up orders.
The bill writes that single-use plastics degrade the fishing, shipping and tourism industries in New Jersey as plastic "creates visual pollution" and "degrades water quality."
According to the national Environmental Protection Agency (EPA), 4.14 million tons of plastic bags, sacks and wraps were generated in 2017. This bill acknowledges that most single-use plastic bags are thrown in landfills, incinerated or litter waterways and oceans. When plastics break down, as they do not biodegrade, they become microplastics, which move through the food chain as animals ingest them.
The Legislature also noted that plastics release chemicals like bisphenol A as they break down. These chemicals are associated with health issues like cancers, birth defects, impaired immunity, endocrine disruption, developmental and reproductive effects.
"Single-use carryout products fill up landfills and find their way into our oceans," said Assemblyman James Kennedy (D-Middlesex, Somerset, Union) in a press release. "There are more sustainable, environmentally-friendly alternatives that many are already using in place of these products. This legislation aims to encourage all of us to act together to protect New Jersey's environmental future."
New Jersey would join several states and many municipalities with this legislation. Plastic bag bans have been reportedly fairly successful in other states. New York Governor Andrew Cuomo signed the New York plastic bag ban in April 2019, and it went into effect on March 1, 2020, although it will not be enforced until October 2020.
"You see plastic bags hanging in trees, blowing down the streets, in landfills and in our waterways, and there is no doubt they are doing tremendous damage," Governor Cuomo said in a press release when signing the bill. "Twelve million barrels of oil are used to make the plastic bags we use every year and by 2050 there will be more plastic by weight in the oceans than fish."
"This legislation, if enacted, would be the strongest law implemented in the nation to curb the use of these products and maintain New Jersey's stance as a leader in environmental protection," said Assemblywoman Nancy Pinkin (D-Middlesex) in a press release.